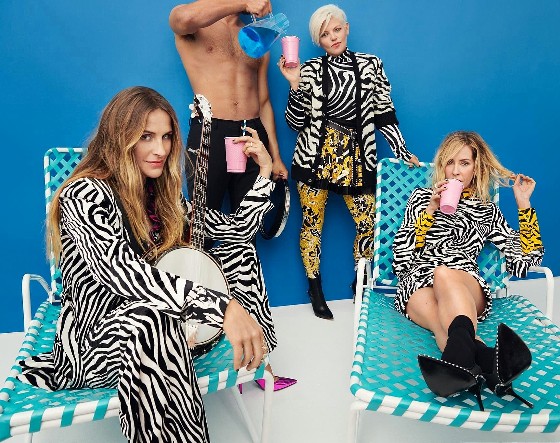 The Chicks 2022 Tour
After a postponed tour in 2020 due to the pandemic, The Chicks took to the road for the first time in six years. Opening acts during the tour were Patty Griffin and Jenny Lewis.
Backup Band
Keith Sewell - band leader, guitar, steel guitar, mandolin, banjo
Owen Barry - guitar, mandolin
Eva Maguire - violin
Slade Pasdar - guitar, keyboards
Jimmy Paxson - drums
Sam Sims - bass
Darrell Smith - keyboards
Setlist on Opening Night
Sin Wagon
Gaslighter
Texas Man
Julianna Calm Down
The Long Way Around
Hope It's Something Good
Sleep at Night
Truth No. 2 (dice song)
Wide Open Spaces
Tights on My Boat
Cowboy Take Me Away
Lubbock or Leave It
Long Time Gone"/"Daddy Lessons
Landslide
Don't Let Me Die in Florida
March March
For Her
White Trash Wedding
Everybody Loves You
Young Man
Not Ready to Make Nice
Goodbye Earl
The Chicks added "Set Me Free" to some setlists and debuted "My Best Friend's Weddings" at Camden, NJ. Occasionally, Travelin' Soldier would be added to the setlist when not rolled in the Dice Game.
Roll The Dice Game
The Chicks added a twist to playing one of their older songs. Each night, Emily's daughter Violet rolled a big fuzzy die that corresponded to a song when it landed on that number. The six songs are Travelin' Soldier, There's Your Trouble, Ready To Run (RTR), Give It Up Or Let Me Go (GIUOLMG), Mississippi, and Truth No. 2. The Chicks did not do this at Bonnaroo. Oklahoma City or ACL Fest.
Click city for reviews
Openers - Patty Griffin (PG), Jenny Lewis (JL)
| | | | | |
| --- | --- | --- | --- | --- |
| | | | | |
| | | Hollywood Casino Ampitheater | | |
| | | Hollywood Casino Ampitheater | | |
| | | |   |   |
| | | | | |
| | | | | |
| | | | | |
| | | | | |
| | | | | |
| | | | | |
| | | | | |
| | | | | |
| | | | | |
| | | | | |
| | | | | |
| | | | | |
| | | | | |
| | | | | |
| | | | | |
| | | | | |
| | | | | |
| | | | | |
| | | | | |
| | | | | |
| | | | | |
| | | Ford Idaho Center Ampitheater | | |
| | | | | |
| | | | | |
| | | | | |
| | | | | |
| | | | | |
| | | | | |
| | | Walmart AR Music Pavilion | | |
| | | | | |
| | | |   |   |
| | | Cynthia Woods Mitchell Pav. | | |
| | | | | |
| | | | | |
| | | |   |   |