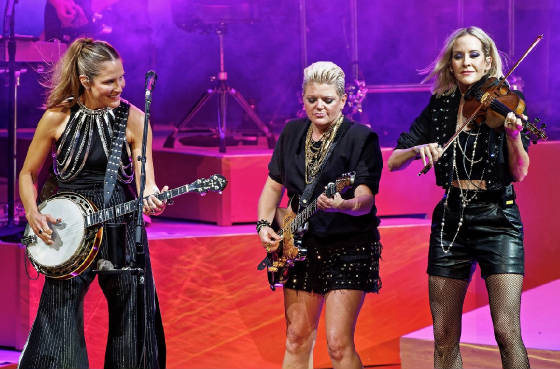 Recent Updates
***Tuesday, August 2nd***
Home Page news

NEWS

More 2022 Tour Dates
(August 2, 2022) The Chicks added five October dates to their tour. Public ticket sale starts on Friday, August 5th. The cities are Rogers, AR, Oklahoma City, Houston, and two shows in Irving,TX.
The Chicks Channel On SiriusXM
(July 30, 2022) The Chicks will be getting their own temporary channel on SiriusXM radio on channel 104. From SiriusXM description: "The Chicks Channel is an exploration of the band's entire catalog of music, guided by their stories and commentary, and intertwined with songs they love from other artists." You can listen to The Chicks channel on channel 104 though August 9th and on the SiriusXM app through August 31st.
The San Diego Union-Tribune Interview
(July 15, 2022) The Chicks, now Dixie-free and on tour, talk music, feminism and singing the anthem at the 2003 Super Bowl. Read here.
The Chicks Ranked
(July 8, 2022) CountryUniverse.net, a long time supporter of The Chicks, has ranked just about every Chicks song from 1998 to 2020. You can find their list at
CountryUniverse.net
.
20 Essential Songs From The Chicks
(July 7, 2022) Yardbarker.com has a list of essential songs from The Chicks.
List here
Boston Globe Interview
Martie Discloses She Recently Had COVID
(June 28, 2022) In an interview with a reporter from the Hartford Courant, Martie said she had COVID right before the start of the tour.
Read interview
.
Interview with Cleveland.com
(June 24, 2022) Martie and Emily gave an interview this week discussing Natalie's vocal problems and touring. You have to provide an email and then hit continue to read the article.
Read here.
Rescheduled Tour Dates
(June 20, 2022) Due to Natalie's vocal problems that occurred in Indiana last night, The Chicks have had to reschedule some upcoming tour dates.
Statement from The Chicks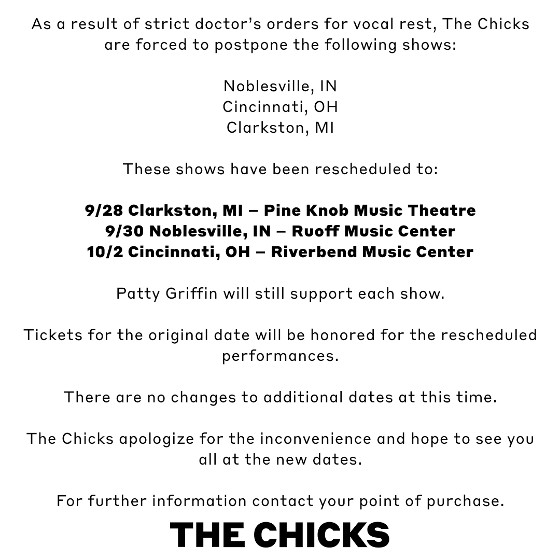 (June 6, 2022) The Chicks were interviewed, sang Sleep At Night and played a guessing game on Kelly's show today. The show can be streamed on Peacock for the next 6 days.
(May 27, 2022) The air date for The Chicks appearance on The Kelly Clarkson Show is Monday, June 6th.
The Chicks Sue Over Denied Insurance Claim
(March 5, 2021) The Chicks' touring company Tunashoe Tours is suing Lloyd's of London underwriters for $6.6 million, alleging breach of contract for failing to pay out an insurance claim over the band's canceled 2020 tour. Variety article
Essential Radio Interview
(February 12, 2021) An interview with The Chicks will air on Apple Music's Essentials Radio on Sunday, February 14th. This program explores the legendary hits that turned artists into superstars and household names.
Food For Love Benefit
(February 12, 2021) The Chicks will be part of a virtual concert for Food For Love on February 13th that starts at 7:00 PM ET. Food For Love is dedicated to helping battle food insecurity in New Mexico. It can be seen on for a limited time on YouTube.
CMHOF Exhibit
(February 12, 2021) The Chicks will be one of the artists featured in the Country Music Hall of Fame and Museum's
American Currents: State of the Music
exhibit. Through the annual exhibition American Currents, the Country Music Hall of Fame and Museum explores the music and events that helped to shape the previous year. The exhibit runs from March 12, 2021 through February 22, 2022.
Country Music Hall Of Fame
Interview With Seth Meyers
(December 15, 2020) The Chicks wage their bets on who could drink Seth under the table, talk about their new album Gaslighter and reveal how close their sleuthing fans get while trying to decipher their lyrics. YouTube link
Ally Coalition Talent Show
(December 15, 2020) The Chicks will perform virtually for the 7th annual Ally Coalition Talent Show on Monday, December 21st through
Twitch.TV/JackAntonoff
.
The Ally Coalition provides critical support for organizations dedicated to bettering the lives of LGBTQ youth and raises awareness about the systemic inequalities facing the LGBTQ population. One of the co-founders is The Chicks producer on Gaslighter, Jack Antonoff.
Late Night With Seth Meyers
(December 11, 2020) The Chicks are scheduled to appear on Late Night With Seth Meyers on Monday night/ Tuesday morning. The show airs on NBC at 12:35 am.
Best Songs of 2020
(December 8, 2020) Many publications are coming out with their year end best songs lists and "Gaslighter" has been included on many of those lists.
NPR said "It's a rousing, harmony-rich, devastatingly specific (and yet somehow universal) takedown of a man who knows exactly what he did on Natalie Maines' boat." They picked "Gaslighter at #26.
NPR 100 Best Songs of 2020
Pitchfork listed "Gaslighter" at #60on its Top 100 Songs: "Its belt-along chorus and Natalie Maines' post-divorce barbs make the song immediately satisfying, a dose of the band's familiar blistering humor served with an assurance that they were ready for the current moment after so much time away."
Pitchfork
Rolling Stone's 50 Best Songs puts it at number 10: The Chicks blasted back this year with the best jerk-torching anthem they've given us since the glory days of "Goodbye Earl," back in the late-Nineties.
Rolling Stone
The critics of the New York Times listed "Gaslighter" and "March March" on their best lists. On "March March": Country hasn't sounded like this, with a blipping beat and four-letter-word lyrics. The arrival of fiddle and banjo doesn't change things; it's 2020, and divisions can't be bridged.
On "Gaslighter": "it triumphed mightily on the title track, a pungent smack of post-divorce country-pop that — for listeners less inclined to fall into the "Shut Up and Sing" camp — easily doubles as yet another fiery rejoinder in the direction of the White House."
New York Times
Time Magazine's Best Albums
(November 30, 2020) Time magazine listed Gaslighter at number 4 on its Top 10 albums of 2020.
"On Gaslighter, the beloved trio of musicians returned with a vengeance. Quite literally: Gaslighter seethes with righteous rage ("Sleep at Night"), conveys a desire for comeuppance and change ("March March") and—in its most heart-wrenching moments—celebrates the wholesome, soothing glory of female solidarity ("Julianna Calm Down")." -- Time's list
Video From Natalie's Youth
(November 12, 2020) Natalie sings "Beautiful Star Of Bethlehem" in this video from 1987. Natalie's father, Lloyd, is playing guitar while her sister Kim is on Natalie's right and her Aunt Latrondra on her left.The song, performed by the Maines family, appeared in the 1987 Christmas Special for KAMC-TV in Lubbock, Texas.
Video link
Vote With Us Virtual Rally
(October 23, 2020) The Chicks are scheduled to take part in this virtual rally on Saturday, October 24th starting at 3 PM EST/12 PM PST. The event will be streamed at live.votewithus.us and simulcast on YouTube.
#VoteWithUs is a mass movement designed to turn out the biggest early vote America has ever seen. Vote with Us page
Priceless Planet Coalition Auction
(October 20, 2020) A virtual 15 minute meet & greet with The Chicks is up for bid for U.S. MasterCard holders. The winning bid will also receive a set of signed vinyl from their five studio albums.
The Priceless Planet Coalition aims to preserve the environment through the restoration of 100 million trees in five years.
Link for auction
PBS NewsHour Interview
(October 16, 2020) The Chicks were featured in an interview for today's episode of Newshour.
Interview
Consequence Of Sound Interview
(October 16, 2020) Martie gave an interview to Kyle Meridith for the podcast Consequence Of Sound.
Listen here
.
GLAAD Spirit Day
(October 11, 2020) The Chicks will be taking part in GLAAD's Spirit Day on October 15th. Spirit Day is the organization's annual anti-bullying campaign in support of LGBTQ youth.
The yearly campaign sees companies, celebrities and more "going purple" on social media to show their support for LGBTQ youth in a unified stand against bullying. Other participants include Cher, Halle Berry, Sterling K. Brown, Ted Danson, and more.
2020 Bill Of Rights Virtual Gala
(October 11, 2020) The Chicks recently took part in the ACLU SoCal Bill Of Rights Gala. They can be seen
here introducing their video "March March".
The Chicks were honored in December 2006 by the ACLU of Southern California.
Fire Drill Fridays
(October 1, 2020) The Chicks will give a performance on Fire Drill Fridays Facebook page on Friday, October 2nd at 2:00 PM ET during an October Virtual Rally. FDF Facebook page
Time 100 : Visions For The Future
(September 23, 2020) The Chicks were interviewed for Time magazine's Time 100 Honorees. The Chicks were on the list in 2006. They also performed "For Her", which was dedicated to Ruth Bader Ginsburg.
CMT Music Awards
(September 23, 2020) The Chicks are nominated for Video of The Year and Group Video at the CMT Music Awards. You can vote for at CMT.com. The awards air on October 21st on CMT, with simulcasting on MTV, MTV2, Logo, Paramount Network, Pop TV and TV Land.
Rolling Stone Top 500 Albums
(September 23, 2020) Fly landed at #224 on Rolling Stone's list of 500 Greatest Albums of all time.
Kimmel Interview and Performance
(September 22, 2020) The Chicks talked about Charles Barkley, who also was a guest on the show, the name change, album and shared an hilarious video from the 90's during their talk with Jimmy Kimmel.
Sleep At Night Lands On Billboard Chart
(September 22, 2020) "Sleep At Night" is at number 40 on Billboard's Adult Alternative Songs chart. This is the Chicks first appearance on this chart.
Jimmy Kimmel Live
(September 18, 2020) The Chicks are scheduled to appear on ABC's Jimmy Kimmel Live on Monday, September 21st.
Donations For Firefighters
(September 18, 2020) The Eagle Creek Saloon in Eagle Creek, Oregon has been donating meals to firefighters who are battling the nearby wildfires. All of the free meals are possible through donations. The Chicks made a generous donation. Their tour manager is from the area and the band wanted to give back to the community. Story and video here.
Doin' It! Podcast
(August 24, 2020) Natalie was recently interviewed for the Doin'! It Podcast With Danny and Jenny. The hosts are Danny Zuker, executive producer of "Modern Family" and Jenny Johnson, a comedian and "Drunk History" regular. Link to podcast.
Star Spangled Banner
(August 20, 2020) The Chicks performed the Star Spangled Banner at tonight's Democratic National Convention. YouTube link.
We Decide 2020 Event
(August 17, 2020) The Chicks will take part in the virtual We Decide 2020 event with Planned Parenthood members on Tuesday, August 18th. For more info on how to join visit: https://events.bizzabo.com/232793/home
"We Decide: Our Lives. Our Health. Our Vote." is Planned Parenthood Action Fund's LIVE virtual membership event during the Democratic National Convention. Artists, leaders, and champions for sexual and reproductive rights will come together with activists and supporters to outline our vision for our communities and our country, and what it will take to win for our communities in November.
Women Take The Stage
(August 14, 2020) On Wednesday, August 26th, The Chicks will appear virtually at the Women Take The Stage concert and rally. Women Take the Stage is a free concert and rally to increase voting by and for women before the November election, airing on YouTube Live, Facebook Live and WomenTaketheStage.org. starting at 9:00 PM ET. The event takes place on the 100th anniversary of the 19th amendment to the U.S. Constitution.
Democratic National Convention Appearance
(August 14, 2020) The Chicks are scheduled to appear virtually for a performance at the Democratic Convention on Thursday August 20th sometime between the hours of 9-11 PM ET. demconvention.com