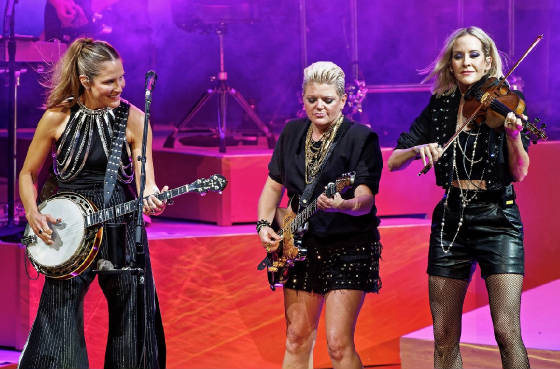 Recent Updates
***Thursday, October 6th***
Home Page news

NEWS

Chicks On Hulu
(October 6, 2022) The Chicks ACL Fest appearance will be streamed on Hulu on Friday, October 7th at 10:15 PM ET. Hulu subscribers will be able to tune into the exclusive livestream at no additional cost.
ACL Fest on Hulu
Austin Chronicle Interview
(October 6, 2022) Martie and Emily discuss playing the upcoming ACL Fest with the Austin Chronicle.
Read article
Houston Chronicle Interview
(October 6, 2022) All three Chicks interviewed and discussed their early videos, must haves on the road and playing RodeoHouston.
Read article
Wine Enthusiast Magazine
(September 13, 2022) Martie and Emily were interviewed about the Chicks Gaslighter wine for the October issue of Wine Enthusiast magazine. Read here
Eagle Number 65
(September 13, 2022) Natalie's father Lloyd Maines has released his first album. Eagle Number 65 includes the song Bloodlines, which has Natalie singing in the Maines Bloodline choir. LloydMaines.com
100 Greatest Country Albums
(August 30, 2022) The Chicks made the list on Rolling Stone's 100 Greatest Country Albums of all time. Fly was ranked at number 5. List
Olivia Newton-John Tribute
(August 14, 2022) The Chicks honored late singer Olivia Newton-John by performing "Hopelessly Devoted To You" last night at the Gorge Ampitheatre in Washington. Video
More 2022 Tour Dates
(August 2, 2022) The Chicks added five October dates to their tour. Public ticket sale starts on Friday, August 5th. The cities are Rogers, AR, Oklahoma City, Houston, and two shows in Irving,TX.
The Chicks Channel On SiriusXM
(July 30, 2022) The Chicks will be getting their own temporary channel on SiriusXM radio on channel 104. From SiriusXM description: "The Chicks Channel is an exploration of the band's entire catalog of music, guided by their stories and commentary, and intertwined with songs they love from other artists." You can listen to The Chicks channel on channel 104 though August 9th and on the SiriusXM app through August 31st.
The San Diego Union-Tribune Interview
(July 15, 2022) The Chicks, now Dixie-free and on tour, talk music, feminism and singing the anthem at the 2003 Super Bowl. Read here.
The Chicks Ranked
(July 8, 2022) CountryUniverse.net, a long time supporter of The Chicks, has ranked just about every Chicks song from 1998 to 2020. You can find their list at
CountryUniverse.net
.
20 Essential Songs From The Chicks
(July 7, 2022) Yardbarker.com has a list of essential songs from The Chicks.
List here
Boston Globe Interview
Martie Discloses She Recently Had COVID
(June 28, 2022) In an interview with a reporter from the Hartford Courant, Martie said she had COVID right before the start of the tour.
Read interview
.
Interview with Cleveland.com
(June 24, 2022) Martie and Emily gave an interview this week discussing Natalie's vocal problems and touring. You have to provide an email and then hit continue to read the article.
Read here.
Rescheduled Tour Dates
(June 20, 2022) Due to Natalie's vocal problems that occurred in Indiana last night, The Chicks have had to reschedule some upcoming tour dates.
Statement from The Chicks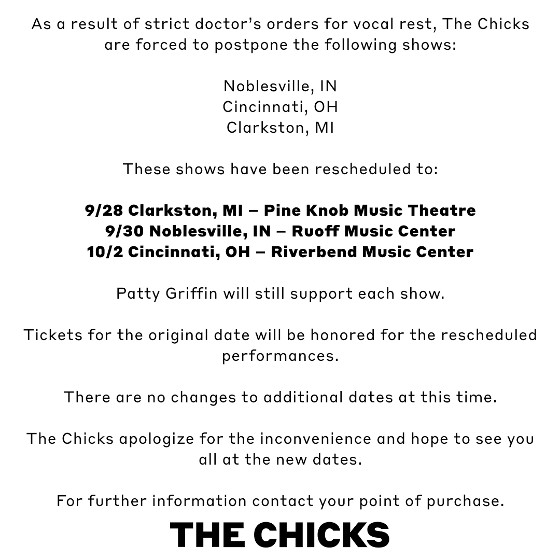 (June 6, 2022) The Chicks were interviewed, sang Sleep At Night and played a guessing game on Kelly's show today. The show can be streamed on Peacock for the next 6 days.
(May 27, 2022) The air date for The Chicks appearance on The Kelly Clarkson Show is Monday, June 6th.
The Chicks Sue Over Denied Insurance Claim
(March 5, 2021) The Chicks' touring company Tunashoe Tours is suing Lloyd's of London underwriters for $6.6 million, alleging breach of contract for failing to pay out an insurance claim over the band's canceled 2020 tour. Variety article
Essential Radio Interview
(February 12, 2021) An interview with The Chicks will air on Apple Music's Essentials Radio on Sunday, February 14th. This program explores the legendary hits that turned artists into superstars and household names.
Food For Love Benefit
(February 12, 2021) The Chicks will be part of a virtual concert for Food For Love on February 13th that starts at 7:00 PM ET. Food For Love is dedicated to helping battle food insecurity in New Mexico. It can be seen on for a limited time on YouTube.
CMHOF Exhibit
(February 12, 2021) The Chicks will be one of the artists featured in the Country Music Hall of Fame and Museum's
American Currents: State of the Music
exhibit. Through the annual exhibition American Currents, the Country Music Hall of Fame and Museum explores the music and events that helped to shape the previous year. The exhibit runs from March 12, 2021 through February 22, 2022.
Country Music Hall Of Fame
Interview With Seth Meyers
(December 15, 2020) The Chicks wage their bets on who could drink Seth under the table, talk about their new album Gaslighter and reveal how close their sleuthing fans get while trying to decipher their lyrics. YouTube link
Ally Coalition Talent Show
(December 15, 2020) The Chicks will perform virtually for the 7th annual Ally Coalition Talent Show on Monday, December 21st through
Twitch.TV/JackAntonoff
.
The Ally Coalition provides critical support for organizations dedicated to bettering the lives of LGBTQ youth and raises awareness about the systemic inequalities facing the LGBTQ population. One of the co-founders is The Chicks producer on Gaslighter, Jack Antonoff.
Late Night With Seth Meyers
(December 11, 2020) The Chicks are scheduled to appear on Late Night With Seth Meyers on Monday night/ Tuesday morning. The show airs on NBC at 12:35 am.
Best Songs of 2020
(December 8, 2020) Many publications are coming out with their year end best songs lists and "Gaslighter" has been included on many of those lists.
NPR said "It's a rousing, harmony-rich, devastatingly specific (and yet somehow universal) takedown of a man who knows exactly what he did on Natalie Maines' boat." They picked "Gaslighter at #26.
NPR 100 Best Songs of 2020
Pitchfork listed "Gaslighter" at #60on its Top 100 Songs: "Its belt-along chorus and Natalie Maines' post-divorce barbs make the song immediately satisfying, a dose of the band's familiar blistering humor served with an assurance that they were ready for the current moment after so much time away."
Pitchfork
Rolling Stone's 50 Best Songs puts it at number 10: The Chicks blasted back this year with the best jerk-torching anthem they've given us since the glory days of "Goodbye Earl," back in the late-Nineties.
Rolling Stone
The critics of the New York Times listed "Gaslighter" and "March March" on their best lists. On "March March": Country hasn't sounded like this, with a blipping beat and four-letter-word lyrics. The arrival of fiddle and banjo doesn't change things; it's 2020, and divisions can't be bridged.
On "Gaslighter": "it triumphed mightily on the title track, a pungent smack of post-divorce country-pop that — for listeners less inclined to fall into the "Shut Up and Sing" camp — easily doubles as yet another fiery rejoinder in the direction of the White House."
New York Times