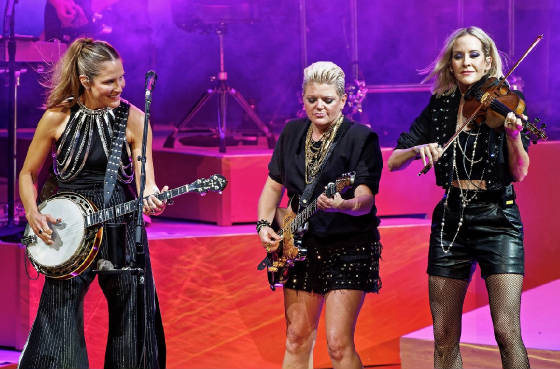 Recent Updates
***Friday, May 5th***
Home Page - News

NEWS

Las Vegas Videos
(May 5, 2023) Videos from the entire setlist on opening night of The Chicks Las Vegas show can be watched on YouTube courtesy of kevinmichaelt. Watch here.
Los Angeles Times Interview
(May 3, 2023) The Chicks were interviewed during rehearsals for their Las Vegas shows. LA Times interview
Tour Dates Down Under
(April 30, 2023) The Chicks announced 9 concert dates in Australia and New Zealand in October. Elle King will be the opening act. Tour Dates
Performance At Willie Nelson's Birthday
(April 30, 2023) The Chicks performed "Bloody Mary Morning" at the Hollywood Bowl last night for Willie Nelson's 90th birthday celebration. YouTube video
Opening For The Boss
(April 25, 2023) The Chicks will be opening for Bruce Springsteen on July 6th and 8th in Hyde Park in London, England.
Ohana Festival Date
(April 11, 2023) The Chicks will be playing the Ohana Festival in Dana Point, California. They are scheduled to play on September 30th. Ohanafest.com
Glastonbury Festival
(March 3, 2023) The Chicks will be playing the Glastonbury Festival in June. The sold-out festival will be held in Pilton, Somerset, England June 21st thru the 25th. Glastonbury website
World Tour 2003
(February 14, 2023) The Chicks announced tour dates that will take them through Europe, Canada and the United States starting in June. Opening Acts include Maren Morris, Ben Harper, and Wild Rivers.
Willie And The Chicks
(January 24, 2023) The Chicks will be performing at Willie Nelson's 90th birthday celebration in April. The two day event takes place on April 29th and 30th at the Hollywood Bowl in Los Angeles. Willie was an opening act for The Chicks Fly tour. -- willienelson90.com
Las Vegas Tour Dates
(January 8, 2023) The Chicks announced they will be playing at the Bakkt Theater at Planet Hollywood Resort & Casino this May. They also promised more to come.
"Finally getting to play live in 2022 left us hungry to continue our tour. After so many years without new music, last year felt like a long time coming," The Chicks shared in a statement. "We hope our fans are ready for more in 2023 because we are not done! There is a lot more to come this year and we are excited to get it all started in Las Vegas at the Zappos Theater this Spring." - People
Billboard Year-End Charts
(December 8, 2022) Despite having no new music in 2022, The Chicks landed on two year-end Billboard charts. They are ranked at #5 for Top Country Artist Duo/Group. This chart is based on chart performances on Hot Country Songs, Top Country Albums and Boxscore touring revenue. The Essential Chicks album was #34 on the Top Country Albums chart.
Chicks On Hulu
(October 6, 2022) The Chicks ACL Fest appearance will be streamed on Hulu on Friday, October 7th at 10:15 PM ET. Hulu subscribers will be able to tune into the exclusive livestream at no additional cost.
ACL Fest on Hulu
Austin Chronicle Interview
(October 6, 2022) Martie and Emily discuss playing the upcoming ACL Fest with the Austin Chronicle.
Read article
Houston Chronicle Interview
(October 6, 2022) All three Chicks interviewed and discussed their early videos, must haves on the road and playing RodeoHouston.
Read article
Wine Enthusiast Magazine
(September 13, 2022) Martie and Emily were interviewed about the Chicks Gaslighter wine for the October issue of Wine Enthusiast magazine. Read here
Eagle Number 65
(September 13, 2022) Natalie's father Lloyd Maines has released his first album. Eagle Number 65 includes the song Bloodlines, which has Natalie singing in the Maines Bloodline choir. LloydMaines.com
100 Greatest Country Albums
(August 30, 2022) The Chicks made the list on Rolling Stone's 100 Greatest Country Albums of all time. Fly was ranked at number 5. List
Olivia Newton-John Tribute
(August 14, 2022) The Chicks honored late singer Olivia Newton-John by performing "Hopelessly Devoted To You" last night at the Gorge Ampitheatre in Washington. Video
More 2022 Tour Dates
(August 2, 2022) The Chicks added five October dates to their tour. Public ticket sale starts on Friday, August 5th. The cities are Rogers, AR, Oklahoma City, Houston, and two shows in Irving,TX.
The Chicks Channel On SiriusXM
(July 30, 2022) The Chicks will be getting their own temporary channel on SiriusXM radio on channel 104. From SiriusXM description: "The Chicks Channel is an exploration of the band's entire catalog of music, guided by their stories and commentary, and intertwined with songs they love from other artists." You can listen to The Chicks channel on channel 104 though August 9th and on the SiriusXM app through August 31st.
The San Diego Union-Tribune Interview
(July 15, 2022) The Chicks, now Dixie-free and on tour, talk music, feminism and singing the anthem at the 2003 Super Bowl. Read here.
The Chicks Ranked
(July 8, 2022) CountryUniverse.net, a long time supporter of The Chicks, has ranked just about every Chicks song from 1998 to 2020. You can find their list at
CountryUniverse.net
.
20 Essential Songs From The Chicks
(July 7, 2022) Yardbarker.com has a list of essential songs from The Chicks.
List here
Boston Globe Interview
Martie Discloses She Recently Had COVID
(June 28, 2022) In an interview with a reporter from the Hartford Courant, Martie said she had COVID right before the start of the tour.
Read interview
.
Interview with Cleveland.com
(June 24, 2022) Martie and Emily gave an interview this week discussing Natalie's vocal problems and touring. You have to provide an email and then hit continue to read the article.
Read here.
Rescheduled Tour Dates
(June 20, 2022) Due to Natalie's vocal problems that occurred in Indiana last night, The Chicks have had to reschedule some upcoming tour dates.
Statement from The Chicks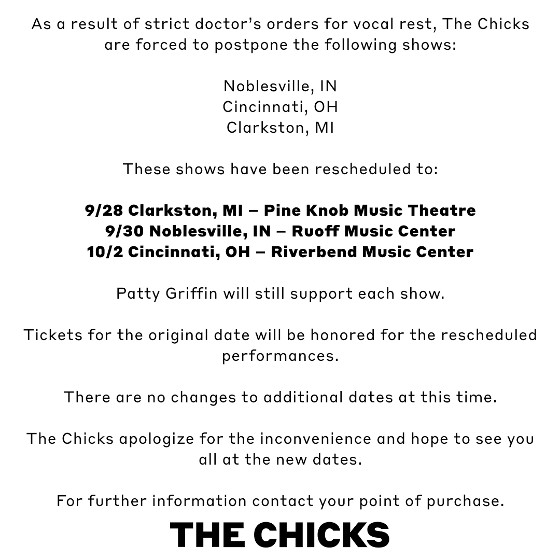 (June 6, 2022) The Chicks were interviewed, sang Sleep At Night and played a guessing game on Kelly's show today. The show can be streamed on Peacock for the next 6 days.
(May 27, 2022) The air date for The Chicks appearance on The Kelly Clarkson Show is Monday, June 6th.