Recent Updates
***Monday, February 17***
Home page

NEWS

Gaslighter Album Due Soon
(February 17, 2020) Natalie has been teasing fans on her Instagram account with screenshots and video of what appears to be footage from a "Gaslighter" video. Rolling Stone magazine article
Voices For Justice
(November 4, 2019) The Dixie Chicks will be making a special appearance with Gary Clark Jr. on February 6, 2020 at Austin City Limits Live at The Moody Theater. The event is a benefit for Proclaim Justice who works to win freedom for victims of wrongful conviction. Natalie is on the board of directors for Proclaim Justice.
Upcoming Appearance In New York City
(October 17,2019) The Dixie Chicks will make an appearance at the 6th annual Ally Coalition Talent Show on December 12th at New York City's Town Hall.
One of the co-founders of The Ally Coalition is Jack Antonoff, the producer of the Chicks' next album. The Ally Coalition provides critical support for organizations dedicated to bettering the lives of LGBTQ youth and raises awareness about the systemic inequalities facing the LGBTQ population. Billboard article
(September 19, 2019) Natalie was a guest on the "Spiritualgasm" podcast today. She discussed the upcoming album which will be released in 2020. She mentioned that the tentative title is Gaslighter. She also said this is the last album on their current Sony contract.
Fly Album Turns 20
(August 30, 2019) The Recording Academy and Rolling Stone featured articles on the 20th anniversary of the Dixie Chicks album Fly.
The Recording Academy interviewed some of the songwriters who worked with the Dixie Chicks for their Fly album. 'Fly' Away: Dixie Chicks' Landmark Album Turns 20
Rolling Stone article: The Dixie Chicks' 'Fly' at 20: How The Country Group Was Always Revolutionary
New Music With Taylor Swift
(August 16, 2019) Taylor Swift announced today the songs that will be on her upcoming album. One of those songs, "Soon You'll Get Better", features the Dixie Chicks. The album Lover will be released on August 23rd.
Five Decades, One Voice
(July 29, 2019) Cracker Barrel will celebrate the women of country music during the 50th anniversary of the brand with "Five Decades, One Voice". Cracker Barrel has paired emerging artists with established performers. Little Big Town's Karen Fairchild and Kimberly Schlapman teamed up with Ingrid Andriss for a cover of the Dixie Chicks "Wide Open Spaces".
Pre-Fame Dixie Chicks Concert
(July 29, 2019) Paste magazine went into its vault for a July 1998 concert from the Dixie Chicks.
Listen here.
Album News
(June 21, 2019) The Dixie Chicks shared some album news on instagram tonight.
New Music From The Chicks?
(April 29, 2019) Natalie posted a clip of music on her Instagram story. For those not familiar with Instagram, these stories last online for only 24 hours then they disappear. I did a screen recording on my iPad.
Download video
The video can also be accessed at
Dropbox
.
Taylor Swift Video Features Dixie Chicks Cameo
(April 29, 2019) Taylor Swift's new video "ME!" has a portrait of the Dixie Chicks amongst all the "cool chicks" hanging on a wall.
Watch video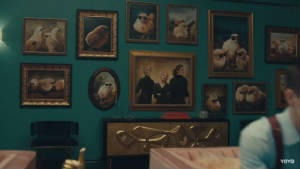 Jayhawks Cover The Dixie Chicks
(July 11, 2018) "Everybody Knows" and "Bitter End", co-written with the Dixie Chicks and Jayhawks member Gary Louris, will be included on the Jayhawks new album. Set for release on July 13th, the album Back Roads And Abandoned Motels also includes "Come Cryin' To Me", which is another co-write by the Dixie Chicks and Louris. "Come Cryin' To Me" appeared on Natalie's solo album, Mother.
Natalie In NYT Puzzle
(May 7, 2018) Natalie made it into the New York Times crossword puzzle in Sunday's edition.
photo
Under New Management
(May 4, 2018) With the retirement of Dixie Chicks manager Simon Renshaw, the Chicks have chosen to sign with Ian Montone and Rick Yorn at Monotone/LBI Entertainment.
Variety article
Album News
(May 1, 2018) Natalie made mention of a new Dixie Chicks album on her Instagram page in response to a fan's question.