Recent Updates
***sunday, May 31st***
Home page news

NEWS

Global Pride Event
(May 31, 2020) Global Pride 2020 has announced the Dixie Chicks will be one of the performers for the June 27th online event. Global Pride was launched by national and international Pride networks after hundreds of Pride events were cancellec or postponed due to COVID 19.
Today Show Summer Music Series Appearance
(May 28, 2020) The Dixie Chicks are scheduled to be a part of the Today Show's 2020 Citi Music Series. As of now, performances will be virtual with no live audience. No date has been set yet.
Today Show
Single Number 3
(May 22, 2020) A song titled "Texas Man" is now listed as the number three track on the Gaslighter album at Amazon and Apple music. No release date has been set.
Available Now For Streaming
(May 1, 2020) "Julianna Calm Down", written by Jack Antonoff,
Julia Micheals
and Natalie Maines, is now available on your usual list of streaming services.
Next Single
(April 29, 2020) The next single from the Gaslighter album appears to be "Julianna Calm Down". The song is now listed as the ninth track on the album at Apple music.
Gaslighter Release Postponed
(April 21, 2020) The release of the Dixie Chicks new album Gaslighter has been postponed with no rescheduled release date.
Ellen Show Repeat
(April 21, 2020) The airing of the Dixie Chicks appearance on the Ellen DeGeneres Show repeats on Friday, April 24th.
Never Have I Ever Game
(April 16, 2020) The Dixie Chicks played "Never Have I Ever" backstage at the Ellen DeGeneres Show.
Video
Natalie Pays Tribute To John Prine
(April 12, 2020) Natalie and her sons honored the late singer/songwriter John Prine with their rendition of "Angel From Montgomery" in an instagram video. John Prine died on April 7th due to complications from COVID-19.
Instagram video
Video Chat With The Chicks
(April 7, 2020) The Dixie Chicks participated in a video chat with The Refuge for DMST.
The Refuge for DMST (Domestic Minor Sex Trafficking) is a registered 501(c)(3) nonprofit organization that has developed The Refuge Ranch, a long-term, residential, therapeutic community for 48 girls, minors through age 19, who have been rescued out of sex trafficking. The Refuge Ranch is the largest long-term, live-in rehabilitation facility for child survivors of sex trafficking in the United States. Refuge website
Link to video chat
Billboard Charts
(March 17, 2020) "Gaslighter" is #1 on Billboard's Country Digital Songs chart for the chart week March 21st, moving up from #2. It also climbed to #20 on Hot Country Songs (up from #31) and #4 on Digital Songs Sales (up from #15). It dropped on Country Airplay to #51 from #36.
The Dixie Chicks also debuted on the Artist 100 chart at #74. From Billboard, "the Artist 100 measures artist activity across key metrics of music consumption, blending album and track sales, radio airplay, streaming and social media fan interaction to provide a weekly multi-dimensional ranking of artist popularity."
Ellen Show Appearance
(March 16, 2020) The Dixie Chicks performed "Gaslighter" and were interviewed on The Ellen DeGeneres Show today. Clips can be seen at ellentube.
New Member Of Touring Band
(March 15, 2020) The Dixie Chicks have hired Erik Deutsch to play keyboards on their planned 2020 tour. Erik appears to be the only new member of the touring band from the MMXVI tour. He replaces John Ginty who is touring with the Allman Betts band. Jambands.com
Colbert Cancelled
(March 12, 2020) The Dixie Chicks appearance on The Late Show With Stephan Colbert has been cancelled. Emily Yahr, the entertainment reporter for the Washington Post tweeted out a statement from their rep "Out of an abundance of caution, it was best for the whole band and crew not to travel."
Chicks Land on Billboard Charts
(March 10, 2020) "Gaslighter" hits Billboard's Country Airplay chart at #36. On the Hot Country Songs chart, which tracks radio airplay, sales data, and steaming data. "Gaslighter is #31. It is #2 on the Country Digital Song Sales.
Allure Magazine Q&A
(March 10, 2020) The Dixie Chicks reveal their biggest beauty regrets, obsessions, and the hair-care products they keep running out of. Allure Q&A.
Gold And Platinum Certifications
(March 9, 2020) Multiple awards for gold and platinum certifications were awarded to the Dixie Chicks by the RIAA on March 5th. The RIAA awards gold for 500,000 Units and Platinum for 1,000,000 Units.
Wide Open Spaces - now 13 times platinum
Fly - now 11 times platinum
Top Of the World: Live - platinum
There's Your Trouble - gold
Wide Open Spaces - gold and platinum
Goodbye Earl - now platinum
Travelin' Soldier - gold and platinum
Not Ready To Make Nice - now 2 times platinum
CBS Sunday Morning Interview
(March 8, 2020) The Dixie Chicks interview can be viewed at YouTube.
Late Show With Colbert
(March 6, 2020) The Dixie Chicks are scheduled for an interview and musical performance on The Late Show with Stephen Colbert. The shows airs March 12th at 11:30 PM on CBS.
Allure Magazine Cover Girls
(March 6, 2020) The Dixie Chicks appear on the April cover of Allure magazine along with a feature article. Allure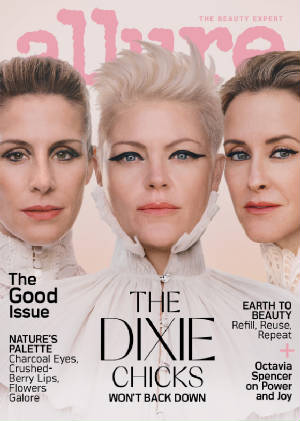 CBS Sunday Morning
(March 5, 2020)The Dixie Chicks are scheduled to appear on CBS's "Sunday Morning " on March 8th. The show airs starting at 9:00 AM ET
Featured Gaslighter Articles
(March 4, 2020) A few articles about the release of Gaslighter:
Rolling Stone, Vox, NPR, Variety
Gaslighter Hits Top of iTunes Charts
(March 4, 2020) On its first day of release, "Gaslighter" was number one on iTunes all genre and country charts. The song can be downloaded at iTunes, Amazon and streamed at Apple Music, Spotify, YouTube and Soundcloud.
Gaslighter Video
(March 4, 2020) The Gaslighter video can be viewed at youtube. The video is directed by Seanne Farmer.
Gaslighter Single
(February 28, 2020) The Dixie Chicks announced a new single "Gaslighter" will be released on March 4th.
TV Appearance On Ellen
(February 26, 2020) The Dixie Chicks are scheduled to appear on The Ellen DeGeneres Show on March 16th. HeadlinePlanet.com
Gaslighter Album Due Soon
(February 17, 2020) Natalie has been teasing fans on her Instagram account with screenshots and video of what appears to be footage from a "Gaslighter" video. Rolling Stone magazine article
Voices For Justice
(November 4, 2019) The Dixie Chicks will be making a special appearance with Gary Clark Jr. on February 6, 2020 at Austin City Limits Live at The Moody Theater. The event is a benefit for Proclaim Justice who works to win freedom for victims of wrongful conviction. Natalie is on the board of directors for Proclaim Justice.
Upcoming Appearance In New York City
(October 17,2019) The Dixie Chicks will make an appearance at the 6th annual Ally Coalition Talent Show on December 12th at New York City's Town Hall.
One of the co-founders of The Ally Coalition is Jack Antonoff, the producer of the Chicks' next album. The Ally Coalition provides critical support for organizations dedicated to bettering the lives of LGBTQ youth and raises awareness about the systemic inequalities facing the LGBTQ population. Billboard article
(September 19, 2019) Natalie was a guest on the "Spiritualgasm" podcast today. She discussed the upcoming album which will be released in 2020. She mentioned that the tentative title is Gaslighter. She also said this is the last album on their current Sony contract.
Fly Album Turns 20
(August 30, 2019) The Recording Academy and Rolling Stone featured articles on the 20th anniversary of the Dixie Chicks album Fly.
The Recording Academy interviewed some of the songwriters who worked with the Dixie Chicks for their Fly album. 'Fly' Away: Dixie Chicks' Landmark Album Turns 20
Rolling Stone article: The Dixie Chicks' 'Fly' at 20: How The Country Group Was Always Revolutionary
New Music With Taylor Swift
(August 16, 2019) Taylor Swift announced today the songs that will be on her upcoming album. One of those songs, "Soon You'll Get Better", features the Dixie Chicks. The album Lover will be released on August 23rd.
Five Decades, One Voice
(July 29, 2019) Cracker Barrel will celebrate the women of country music during the 50th anniversary of the brand with "Five Decades, One Voice". Cracker Barrel has paired emerging artists with established performers. Little Big Town's Karen Fairchild and Kimberly Schlapman teamed up with Ingrid Andriss for a cover of the Dixie Chicks "Wide Open Spaces".
Pre-Fame Dixie Chicks Concert
(July 29, 2019) Paste magazine went into its vault for a July 1998 concert from the Dixie Chicks.
Listen here.
Album News
(June 21, 2019) The Dixie Chicks shared some album news on instagram tonight.
New Music From The Chicks?
(April 29, 2019) Natalie posted a clip of music on her Instagram story. For those not familiar with Instagram, these stories last online for only 24 hours then they disappear. I did a screen recording on my iPad.
Download video
The video can also be accessed at
Dropbox
.
Taylor Swift Video Features Dixie Chicks Cameo
(April 29, 2019) Taylor Swift's new video "ME!" has a portrait of the Dixie Chicks amongst all the "cool chicks" hanging on a wall.
Watch video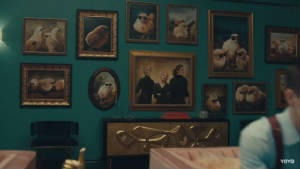 Jayhawks Cover The Dixie Chicks
(July 11, 2018) "Everybody Knows" and "Bitter End", co-written with the Dixie Chicks and Jayhawks member Gary Louris, will be included on the Jayhawks new album. Set for release on July 13th, the album Back Roads And Abandoned Motels also includes "Come Cryin' To Me", which is another co-write by the Dixie Chicks and Louris. "Come Cryin' To Me" appeared on Natalie's solo album, Mother.
Natalie In NYT Puzzle
(May 7, 2018) Natalie made it into the New York Times crossword puzzle in Sunday's edition.
photo
Under New Management
(May 4, 2018) With the retirement of Dixie Chicks manager Simon Renshaw, the Chicks have chosen to sign with Ian Montone and Rick Yorn at Monotone/LBI Entertainment.
Variety article
Album News
(May 1, 2018) Natalie made mention of a new Dixie Chicks album on her Instagram page in response to a fan's question.