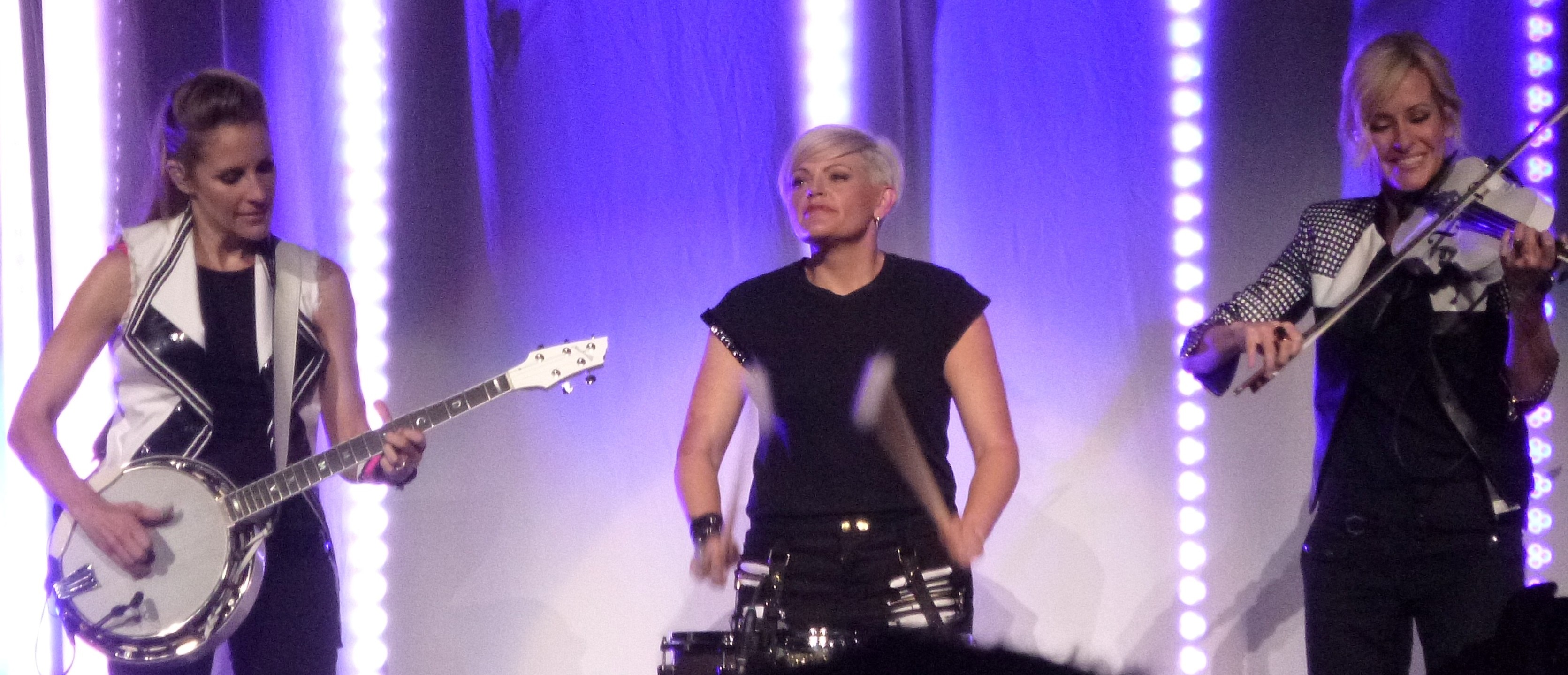 photo by dixiechickshenhouse.com
Recent Updates
***Monday, May 2nd***
Home page

NEWS

More Tour Dates
(May 2, 2016) The Chicks added nine more dates in September to their U.S. DCXMMXVI tour. Edmonton, Saskatoon, and Calgary dates are to be determined. Also announced were the opening acts. Opening will be Anderson East, Augustana, The Heavy, Vintage Trouble, Elle King, Smooth Hound Smith, and Josh Herbert. New tour dates and schedule for openings acts can be found on
Tour Dates page
.
Chicks Honor Prince
(April 23, 2016) The Dixie Chicks honored Prince last night during their concert in Horsens, Denmark. The Chicks performed "Nothing Compares To U", which was written by Prince.
Performance on YouTube
.
Chicks On Vinyl
(March 4, 2016) Columbia/Legacy announced today they will be releasing the four studio albums from the Dixie Chicks on vinyl on April 15th. Wide Open Spaces, Fly, Home, and Taking The Long Way are available for pre-order at
Amazon.com
.
Natalie On The Simpsons
(February 8, 2016) Natalie makes an "appearance" on the February 21st episode of The Simpsons. In "Gal Of Constant Sorrow", Natalie is the homeless women's singing voice. The Simpsons air on Fox.
Natalie Teams With Smooth Hound Smith
(January 7, 2016) Natalie sings background vocals on two songs from the soon to be released album Sweet Tennessee Honey from Smooth Hound Smith. The songs are "Knockin' At My Door" and "The Boots That Got Us There" and will be released on January 15th. http://www.smoothhoundsmith.com
Added Tour Date
(November 30, 2015) The Dixie Chicks have added another show at the Minnesota State Fair. The show will take place on August 28th. Tickets go on sale December 11th.
U.S Tour MMXVI
(November 16, 2015) The Dixie Chicks will headline a tour in the U.S. for the first time in 10 years. Presale tickets for club members go on sale tomorrow with the public sale starting Friday. More info at
DixieChicks.com
New Song From Natalie
(September 27, 2015) Natalie is featured on "Who I Want You To Love " on the Bleachers album
Terrible Thrills, Vol. 2.
The album is a remake of covers from the Bleachers album
Strange Desire.
Others on the album include Sara Bareilles and Carly Rae Jepsen, The album is available for free at
Google Play.
New Song With Don Henley
(September 17, 2015) "She Sang Hymns Out Of Tune", on Don Henley's album
Cass County
, is available for listening at NPR's First Listen. Martie and Emily provide harmony vocals as well as playing fiddle and banjo on the song. The album is set for release on September 25th.
NPR First Listen
Bridge School Benefit
(September 14, 2015) The Dixie Chicks will perform at Neil Young's 29th annual Bridge School benefit on October 24th and 25th at Shoreline Ampitheatre in Mountain View, CA. Tickets go on sale September 18th at
livenation.com
. Others scheduled to appear include Sheryl Crow and Ryan Adams
Proceeds from the famed annual concerts benefit the Bridge School, which assists children with severe physical impairments and communication problems. The school was founded by Young's ex-wife, Pegi Young. bridgeschool.org
ACL Taping
(September 2, 2015) Martie and Emily appeared at a taping of Austin City Limits on Tuesday. They performed "She Sang Hymns Out Of Tune" with Don Henley during his first appearance on the PBS television show. The show airs October 24th on PBS stations.
Natalie With Taylor Swift
(August 25, 2015) Natalie appeared onstage with Taylor Swift last night in Los Angeles, CA at the Staples Center as part of Taylor's tour. Natalie and Taylor teamed up on "Goodbye Earl.
Photo
New European Dates
(August 24, 2015) The Dixie Chicks announced more dates for their 2016 European tour. Added were dates in Belgium, Switzerland, Denmark, Sweden and Norway. Presales for the new dates will begin at 9 AM local time on Wednesday, August 26th. Ticket Info
Martie And Emily Team Up With Don Henley
(August 8, 2015) Martie and Emily sing harmony vocals on "She Sang Hymns
Out Of Tune" for Don Henley's album Cass County, due for release on
September 25th. Tracklist
West Texas Walk Of Fame Inductions
(June 30, 2015) Natalie, along with Jo Harvey Allen, has been inducted into the West Texas Walk Of Fame, located in Lubbock, Texas. The induction takes place on September 17th.
Story with quotes from Natalie
.
2016 European Tour
(June 16, 2015) The Dixie Chicks announced today a six city tour in Europe for 2016. The Chicks will start in Amsterdam on April 20th and finish in Dublin Ireland on May 4th.
More info and ticket details here.
edited June 19th: The Chicks have added another show in Amsterdam on April 19th.
Natalie On "The Simpsons"
(June 16, 2015) In an interview with Variety magazine, the executive producer of "The Simpsons" has disclosed that Natalie will be singing on an episode this fall. Variety
"She's Got A Way" Video
(December 31, 2014) Video of Natalie performing "She's Got A Way" at the Library of Congress Gershwin Prize For Popular Song tribute to Billy Joel is at PBS. The tribute airs on PBS stations Friday, January 2nd. Video
"Wayfaring Stranger" Duet
(December 16, 2014) "Wayfaring Stranger" as sung by Robert Earl Keen and Natalie is now available at iTunes. It appears on Robert's album Happy Prisoner: The Bluegrass Sessions, which is due for release on February 10th. You can listen to the full version at WSJ Speakeasy.